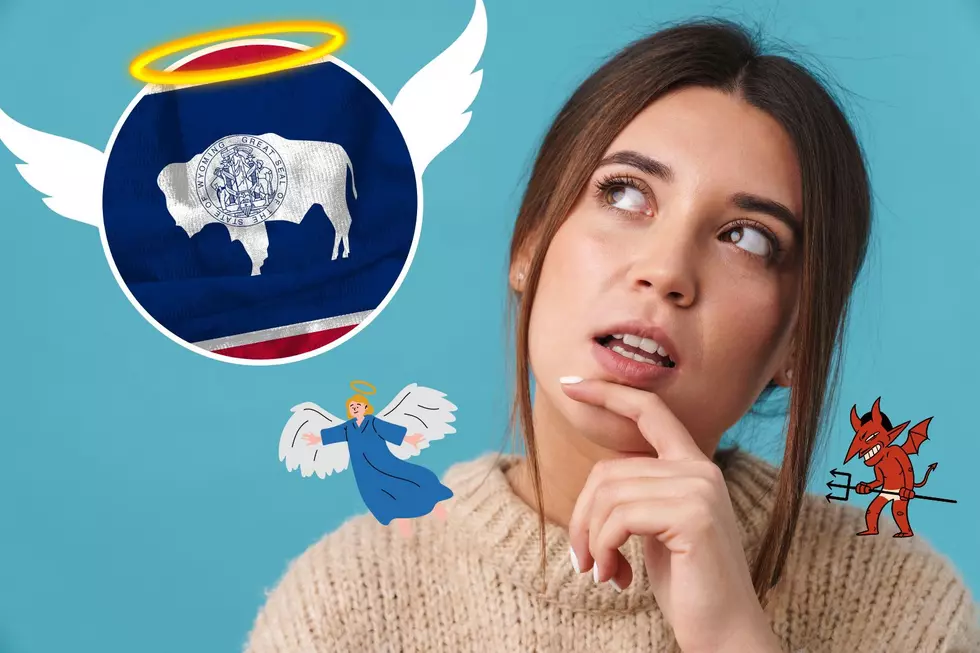 Survey Says Wyoming is the LEAST Sinful State – Here's Why.
Canva Pro
Wyoming may be home to Devil's Tower and Hell's Half-Acre, but we are far from sinful, according to WalletHub. The institution released a study today declaring Wyoming the LEAST sinful state in the union. Am I surprised? Not really. They had excellent reasons for Wyoming reigning angelic status. Also, the MOST sinful state was not surprising in the slightest.
Why Wyoming is the LEAST Sinful State in the U.S.
WalletHub's survey analyzed key factors based on the 7 Deadly Sins to come up with their definitive list of sinful status. Those factors were the following:
Anger/Hatred/Wrath: Based on violent crimes per capita. (Worst in category: Alaska.)
Jealousy: Based on thefts per capita. (Worst in category: Louisiana)
Excess/Vices/Gluttony: Excessive drinking. (Worst in category: Wisconsin)
Greed: Based on gambling Disorders in the population. (Worst in category: Mississippi)
Lust: Based on time spent on "Adult Entertainment Sites" (Worst in category: Mississippi)
Vanity/Pride: Based on beauty salons per capita. (Worst in category: New York)
Laziness/Sloth: Based on percent of adults not exercising. (Worst in category: Mississippi)
According to WalletHub, Wyoming ranked in the bottom 50% of every category except Anger/Hatred, where we ranked 21st overall (still not too bad.) We ranked 45th for Jealousy, 42nd for Excess and Vices, 49th for Greed, 36th for Lust, 46 for Vanity, and 34th for Laziness.
Where Did Wyoming's Neighbors Rank?
Our neighboring states of Colorado, Montana, Idaho, South Dakota, Nebraska, and Utah ranked across the scoreboard for sinful status. Colorado actually ranked in the Top 20 most sinful states, while Idaho was right behind Wyoming at 49th.
Colorado: 17th
Idaho: 49th
Montana: 37th
Nebraska: 42nd
South Dakota: 44th
Utah: 43rd 
What's the MOST Sinful State in the Union?
Surprise, surprise, Nevada is the most sinful state in the U.S. It's the Mecca of Gambling, 21+ clubs and entertainment, and All-You-Can-Eat Buffets. It's literally home to a place called "Sin City," - so its status of "Most Sinful" was a no-brainer.
For the complete survey findings by WalletHub, click here.
Yes, You Really Can Sleep in a Tipi Near Wyoming's Devil's Tower