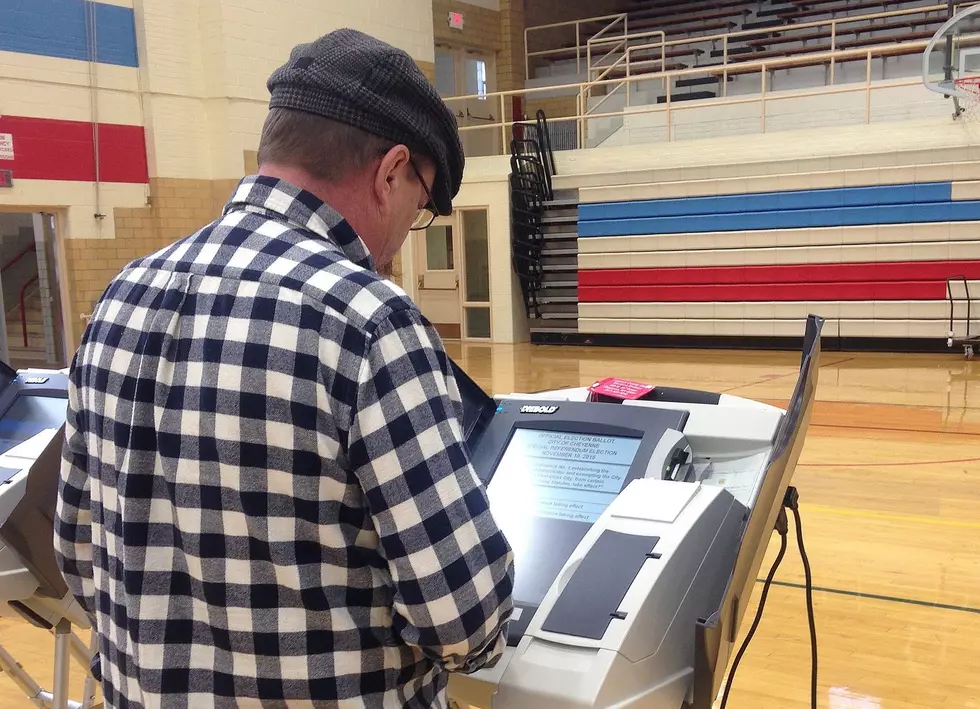 Laramie County Incumbents Fare Well On Election Day
Joy Greenwald, Townsquare Media
Laramie County incumbents sailed to victory on election day on Nov. 8, according to unofficial results from the Laramie County Clerk's Office.
Several had no opposition at all. That was the case for a trio of Republican Laramie County Commissioners. On Tuesday, Troy Thompson, Linda Heath, and Gunnar Malm were all unopposed.
It wasn't quite as easy for three members of the Cheyenne City Council who faced general election opponents. Even so, Ken Esquibel, Mark Rinne, and Scott Roybal will return to their council seats come January after being re-elected by comfortable margins.
The same held true for local legislators, with incumbents like Sen Stephan Pappas, Rep. Landon Brown, and other veteran lawmakers holding clear majorities among Laramie County voters.
Republicans also held on to a seat they held in south Cheyenne's House District 44. Republican Tamara Trujillo kept that seat in the GOP column. She defeated the incumbent, John Romero-Martinez in the August primary election, marking a rare defeat for a local incumbent officeholder in 2022's election season.
Trujillo then defeated former HD 44 Democrat Sara Burlingame in yesterday's voting.
Laramie County, Wyoming
GENERAL ELECTION NOVEMBER 8, 2022 UNOFFICIAL RESULTS All Votes Election Summary Report
U.S. REPRESENTATIVE Vote For 1 TOTAL VOTE % REP HARRIET HAGEMAN 17,536 58.90% DEM LYNNETTE GREYBULL 9,574 32.16% LIB RICHARD BRUBAKER 914 3.07% CON MARISSA JOY SELVIG 863 2.90% Write-In Totals 883 2.97% Overvotes 22 Undervotes 418 Contest Totals 30,210
GOVERNOR Vote For 1 TOTAL VOTE % REP MARK GORDON 22,067 73.78% DEM THERESA A. LIVINGSTON 5,765 19.28% LIB JARED J. BALDES 1,064 3.56% Write-In Totals 1,013 3.39% Overvotes 1 Undervotes 300 Contest Totals 30,210
SECRETARY OF STATE Vote For 1 TOTAL VOTE % REP CHUCK GRAY 20,754 84.52% Write-In Totals 3,802 15.48% Overvotes 6 Undervotes 5,648 Contest Totals 30,210
STATE AUDITOR Vote For 1 TOTAL VOTE % REP KRISTI RACINES 25,392 97.96% Write-In Totals 530 2.04% Overvotes 0 Undervotes 4,288 Contest Totals 30,210 STATE
TREASURER Vote For 1 TOTAL VOTE % REP CURT MEIER 24,328 96.30% Write-In Totals 935 3.70% Overvotes 0 Undervotes 4,947 Contest Totals 30,210 Election Summary - 11/08/2022 10:03 PM 2 of 11 Report generated with Electionware Copyright © 2007-2019 Laramie County, Wyoming GENERAL ELECTION NOVEMBER 8, 2022 UNOFFICIAL RESULTS All Votes Election Summary Report STATE
SUPERINTENDENT OF PUBLIC INSTRUCTION Vote For 1 TOTAL VOTE % REP MEGAN DEGENFELDER 21,080 71.27% DEM SERGIO A. MALDONADO, SR. 8,133 27.50% Write-In Totals 366 1.24% Overvotes 1 Undervotes 630 Contest Totals 30,210
STATE SENATOR SENATE DISTRICT 5 Vote For 1 TOTAL VOTE % REP LYNN HUTCHINGS 3,285 70.58% DEM TED HANLON 1,354 29.09% Write-In Totals 15 0.32% Overvotes 0 Undervotes 86 Contest Totals 4,740
STATE SENATOR SENATE DISTRICT 7 Vote For 1 TOTAL VOTE % REP STEPHAN PAPPAS 3,239 56.80% DEM MARCIE KINDRED 2,439 42.77% Write-In Totals 24 0.42% Overvotes 2 Undervotes 109 Contest Totals 5,813
STATE SENATOR SENATE DISTRICT 31 Vote For 1 TOTAL VOTE % REP EVIE BRENNAN 3,807 96.21% Write-In Totals 150 3.79% Overvotes 0 Undervotes 691 Contest Totals 4,648
STATE REPRESENTATIVE DISTRICT 4 Vote For 1 TOTAL VOTE % REP JEREMY HAROLDSON 44 80.00% IND DAN BRECHT 11 20.00% Write-In Totals 0 0.00% Overvotes 0 Undervotes 3 Contest Totals 58 Election Summary - 11/08/2022 10:03 PM 3 of 11 Report generated with Electionware Copyright © 2007-2019 Laramie County, Wyoming
GENERAL ELECTION NOVEMBER 8, 2022 UNOFFICIAL RESULTS All Votes Election Summary Report
STATE REPRESENTATIVE DISTRICT 7 Vote For 1 TOTAL VOTE % REP BOB NICHOLAS 2,043 60.88% DEM JORDAN EVANS 1,282 38.20% Write-In Totals 31 0.92% Overvotes 0 Undervotes 75 Contest Totals 3,431
STATE REPRESENTATIVE DISTRICT 8 Vote For 1 TOTAL VOTE % REP DAVE ZWONITZER 2,716 68.38% IND BRENDA LYTTLE 1,214 30.56% Write-In Totals 42 1.06% Overvotes 0 Undervotes 143 Contest Totals 4,115
STATE REPRESENTATIVE DISTRICT 9 Vote For 1 TOTAL VOTE % REP LANDON J. BROWN 2,015 71.20% DEM STEPHEN D. LATHAM 777 27.46% Write-In Totals 38 1.34% Overvotes 0 Undervotes 98 Contest Totals 2,928
STATE REPRESENTATIVE DISTRICT 10 Vote For 1 TOTAL VOTE % REP JOHN EKLUND 3,195 97.44% Write-In Totals 84 2.56% Overvotes 0 Undervotes 333 Contest Totals 3,612 STATE REPRESENTATIVE DISTRICT 11 Vote For 1 TOTAL VOTE % REP JARED OLSEN 1,144 52.62% DEM MARGUERITE HERMAN 1,013 46.60% Write-In Totals 17 0.78% Overvotes 0 Undervotes 38 Contest Totals 2,212 Election Summary - 11/08/2022 10:03 PM 4 of 11
STATE REPRESENTATIVE DISTRICT 11 Vote For 1 TOTAL VOTE % REP JARED OLSEN 1,144 52.62% DEM MARGUERITE HERMAN 1,013 46.60% Write-In Totals 17 0.78% Overvotes 0 Undervotes 38 Contest Totals 2,212 Election Summary - 11/08/2022 10:03 PM 4 of 11
Laramie County, Wyoming GENERAL ELECTION NOVEMBER 8, 2022 UNOFFICIAL RESULTS All Votes Election Summary Report STATE REPRESENTATIVE DISTRICT 12 Vote For 1 TOTAL VOTE % REP CLARENCE STYVAR 1,378 96.09% Write-In Totals 56 3.91% Overvotes 0 Undervotes 299 Contest Totals 1,733
STATE REPRESENTATIVE DISTRICT 41 Vote For 1 TOTAL VOTE % REP BILL HENDERSON 1,384 49.32% DEM JEN SOLIS 1,163 41.45% CON MATT FREEMAN 252 8.98% Write-In Totals 7 0.25% Overvotes 1 Undervotes 78 Contest Totals 2,885 STATE REPRESENTATIVE DISTRICT 42 Vote For 1 TOTAL VOTE % REP BEN HORNOK 2,413 94.96% Write-In Totals 128 5.04% Overvotes 0 Undervotes 466 Contest Totals 3,007
STATE REPRESENTATIVE DISTRICT 43 Vote For 1 TOTAL VOTE % REP DAN ZWONITZER 2,193 94.57% Write-In Totals 126 5.43% Overvotes 0 Undervotes 357 Contest Totals 2,676
STATE REPRESENTATIVE DISTRICT 44 Vote For 1 TOTAL VOTE % REP TAMARA N. TRUJILLO 937 59.95% DEM SARA BURLINGAME 616 39.41% Write-In Totals 10 0.64% Overvotes 0 Undervotes 18 Contest Totals 1,581
STATE REPRESENTATIVE DISTRICT 61 Vote For 1 TOTAL VOTE % REP DANIEL J. SINGH 1,561 95.77% Write-In Totals 69 4.23% Overvotes 0 Undervotes 342 Contest Totals 1,972
COUNTY COMMISSIONER Vote For 3 TOTAL VOTE % REP TROY THOMPSON 21,170 33.02% REP GUNNAR MALM 21,046 32.83% REP LINDA M HEATH 20,104 31.36% Write-In Totals 1,788 2.79% Overvotes 15 Undervotes 26,507 Contest Totals 90,630
COUNTY CORONER Vote For 1 TOTAL VOTE % REP REBECCA REID 25,917 98.90% Write-In Totals 288 1.10% Overvotes 1 Undervotes 4,004 Contest Totals 30,210
DISTRICT ATTORNEY Vote For 1 TOTAL VOTE % REP SYLVIA MILLER HACKL 24,998 98.03% Write-In Totals 502 1.97% Overvotes 3 Undervotes 4,707 Contest Totals 30,210
COUNTY SHERIFF Vote For 1 TOTAL VOTE % REP BRIAN KOZAK 13,958 46.82% IND JEFF BARNES 11,889 39.88% DEM JESS FRESQUEZ 3,862 12.95% Write-In Totals 104 0.35% Overvotes 8 Undervotes 389 Contest Totals 30,210 Election Summary - 11/08/2022 10:03 PM 6 of 11
COUNTY CLERK Vote For 1 TOTAL VOTE % REP DEBRA LEE 26,145 98.79% Write-In Totals 320 1.21% Overvotes 1 Undervotes 3,744 Contest Totals 30,210
COUNTY TREASURER Vote For 1 TOTAL VOTE % REP TAMMY DEISCH 25,320 98.91% Write-In Totals 280 1.09% Overvotes 1 Undervotes 4,609 Contest Totals 30,210
COUNTY ASSESSOR Vote For 1 TOTAL VOTE % REP KENNETH GUILLE 25,480 98.89% Write-In Totals 286 1.11% Overvotes 0 Undervotes 4,444 Contest Totals 30,210 CLERK OF DISTRICT COURT Vote For 1 TOTAL VOTE % REP DIANE SANCHEZ 25,740 99.11% Write-In Totals 230 0.89% Overvotes 1 Undervotes 4,239 Contest Totals 30,210
DISTRICT COURT CAMPBELL Vote For 1 TOTAL VOTE % YES 20,554 72.89% NO 7,646 27.11% Overvotes 1 Undervotes 2,009 Contest Totals 30,210
DISTRICT COURT ROGERS Vote For 1 TOTAL VOTE % YES 19,863 70.94% NO 8,138 29.06% Overvotes 5 Undervotes 2,204 Contest Totals 30,210
CIRCUIT COURT CHAMBERS Vote For 1 TOTAL VOTE % YES 20,758 75.18% NO 6,854 24.82% Overvotes 1 Undervotes 2,597 Contest Totals 30,210
CITY COUNCIL WARD 1 Vote For 1 TOTAL VOTE % SCOTT D. ROYBAL 2,693 58.52% CAMERON KARAJANIS 1,856 40.33% Write-In Totals 53 1.15% Overvotes 0 Undervotes 661 Contest Totals 5,263
CITY COUNCIL WARD 2 Vote For 1 TOTAL VOTE % MARK D. RINNE 4,269 57.61% LYNN A. STOREY-HUYLAR 3,099 41.82% Write-In Totals 42 0.57% Overvotes 2 Undervotes 812 Contest Totals 8,224
CITY COUNCIL WARD 3 Vote For 1 TOTAL VOTE % KEN A. ESQUIBEL 2,765 58.87% JOE SHOGRIN 1,885 40.13% Write-In Totals 47 1.00% Overvotes 0 Undervotes 458 Contest Totals 5,155
LARAMIE COUNTY COMMUNITY COLLEGE BOARD OF TRUSTEES Vote For 3 TOTAL VOTE % KATHY EMMONS 13,100 20.87% JANINE THOMPSON 11,561 18.42% CAROL MERRELL 10,510 16.75% JOE KELLY 10,165 16.20% ED WRIGHT 8,724 13.90% HARMON (BUD) DAVIS II 8,324 13.26% Write-In Totals 374 0.60% Overvotes 165 Undervotes 27,707 Contest Totals 90,630
LARAMIE COUNTY SCHOOL DISTRICT #1 BOARD MEMBER AT-LARGE Vote For 1 TOTAL VOTE % RENE R. HINKLE 8,586 36.67% HENRY (HANK) BAILEY 7,960 34.00% JENEFER PASQUA 3,429 14.64% MEG VARHALMI 1,728 7.38% JOE PLOWMAN 1,521 6.50% Write-In Totals 191 0.82% Overvotes 109 Undervotes 4,412 Contest Totals 27,936
LARAMIE COUNTY SCHOOL DISTRICT #1 BOARD MEMBER AREA 1 Vote For 1 TOTAL VOTE % SUSAN EDGERTON 2,359 43.84% JOSEPH RAMIREZ 1,695 31.50% SHELLY DOWNHAM 1,289 23.95% Write-In Totals 38 0.71% Overvotes 1 Undervotes 1,133 Contest Totals 6,515
LARAMIE COUNTY SCHOOL DISTRICT #1 BOARD MEMBER AREA 2 Vote For 1 TOTAL VOTE % BROOKE HUMPHREY 3,560 42.88% RICH WIEDERSPAHN 3,520 42.39% MAURINA VENTURELLI 1,182 14.24% Write-In Totals 41 0.49% Overvotes 6 Undervotes 1,648 Contest Totals 9,957
CONSERVATION DISTRICT SUPERVISOR Vote For 2 TOTAL VOTE % JAY BERRY 20,012 51.43% ANN SANCHEZ 18,594 47.78% Write-In Totals 307 0.79% Overvotes 2 Undervotes 21,505 Contest Totals 60,420